Luc DEFREYNE, MD, PhD, Ghent University Hospital, Ghent, Belgium
Faculty of Medicine and Health Sciences: Department of Diagnostic Sciences
Professor in Interventional Radiology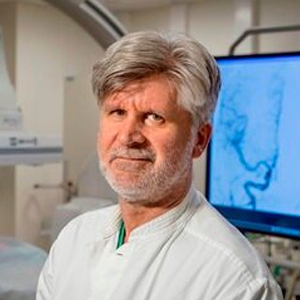 Interventional Radiologist at the Gent University Hospital, Belgium since 1990, specialized in oncology, bone and soft tissue IR, and embolization techniques. Since 1993, also working as an interventional neuroradiologist. PhD in 2006 on embolization of gastrointestinal bleeding. Professor since 2007 and Full Professor in IR at the Ghent University since 2018.
2007 – 2020: Professor in Interventional Radiology, Ghent University
1993 – 2020: Head of Department of Interventional radiology and Neuroradiology, Ghent University Hospital
Skills: Hepatocellular Carcinoma / Radiology / Liver Transplantation / Interventional Radiology