Mohammad BADRAN King Faisal Specialist Hospital & Research Center / KFSHRC
Department of Radiology, Riyadh, Saudi Arabia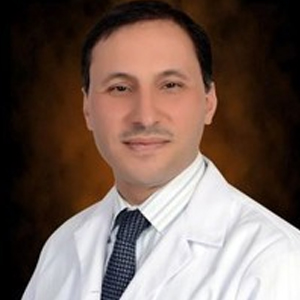 Dr. Mohammad Farouq BADRAN
Consultant Radiologist
Interventional Radiologist
Dr. Mohammad Farouq BADRAN
King Faisal Specialist Hospital and Research Centre
I am a highly qualified, UK trained consultant general/interventional radiologist. After 8 years a consultant in the UK, this is my 12th year at King Faisal Specialist Hospital and Research Centre as an Interventional. I am the Director of our Vascular Anomaly Program and was Head of Interventional Radiology for 4 years a. This is a tertiary 1500 bed hospital focused on cancer and complex diseases.
I am equipped with MBBS, FRCR, FFR FRCR/RCSI and USMLE certificates. I am a member of five national and European societies and Secretary to Pan Arab Interventional Radiology Society (PAIRS). I have several publications with numerous national and international presentations. I continually update and implement new knowledge, keeping up with the latest technology.
I qualified from one of the best universities in the Middle East (University of Jordan), trained in an outstanding London radiology training programme and had two-year interventional radiology fellowship in one of the leading units in the UK.
My main focus on interest is the diagnosis and treatment of Vascular Anomalies with current cohort of 1100 patients. I regularly do complex lymphatic intervention in acquired and congenital diseases. Varicose veins is large part of my practice. I am also interested in acute and chronic DVT treatment, pelvic congestion syndrome, peripheral vascular disease and Endovascular aneurysm repair. As a group, we introduced embolization of hemorrhoids, osteoarthritis and thyroid radiofrequency ablation.
I usually perform the most demanding ultrasound/CT guided biopsies and abscess drainage with high success and low complication rate. I perfom most of emergengcy life saving often difficult, yest successful embolisation for bleeding from the GI tract or urology/oncology malignancies.
I have major contribution in treating patients with peripheral vascular/renal disease performing  angiograms, fistulograms, angioplasty, stenting, thrombolysis, embolisation (arterial and varicocoele), renal artery stenting and occasional carotid artery stenting.
I routinely perform nephrostomies, ureteric stenting and access for PCNL (percutaneous nephrolithotomy).
I provide regular gastrostomies, Gastointestinal and biliary stenting for beingin/malignant condtions.
Member of BSIR, CIRSE, ISSVA, PAIRS.
Skills: Interventional Radiology