Romaric LOFFROY Director François-Mitterrand University Hospital, Dijon, France
MSc, MD, PhD, FCIRSE – Head Professor, Department of Vascular & Interventional Radiology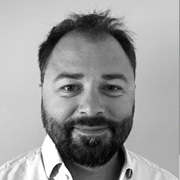 Dr Loffroy obtained his medical degree from the University of Bourgogne/Franche-Comté, Dijon, France in 2001. He did his clinical fellowship in interventional radiology at the department of vascular and interventional radiology at the University Hospital in Dijon, France.
His clinical interests are interventional radiology, especially in embolization techniques with particular interest in gastrointestinal bleeding as well as peripheral vascular diseases. Dr Loffroy is currently doing research in improving tumor imaging quality in interventional radiology and working towards newer interventional radiology therapies for liver cancer, deep vein thrombosis and arterial diseases, as well as development of new embolic materials. Dr. Loffroy has published numerous SCI journal papers and book chapters, edited/reviewed for many academic journals, coordinated/participated in several international/national projects, served as an evaluation expert for organizations such as French Society of Radiology (SFR) and High Authority of Health (HAS). Dr Loffroy is currently the President of the French Society of Cardiovascular and Interventional Imaging (SFICV), Head of the Department of Vascular and Interventional Radiology and Director of the Center of Mini-Invasive Image-Guided Therapies in Dijon.
 Skills: Medicine / Angioplasty / Embolization/ Clinical Research / Interventional Radiology